The 5 Ultimate Destinations for Romantic Getaways in NSW
There's nothing like a romantic escape to rekindle the passion in a relationship. Whether you're looking at a short weekender, or an extended stay, these are the five destinations in NSW that you'll want to consider for your next couples' retreat.
     1. THE HAWKESBURY RIVER
Located less than an hour from Sydney, the Hawkesbury River extends for 120km from the Hawkesbury Valley region to the Central Coast. With rich cultural experiences on offer, loads of opportunity for adventure and a culinary experience you won't want to miss, the Hawkesbury River will surprise you with how perfect it is for a romantic getaway.
ACTIVITIES
There is culture and history to explore in abundance along the Hawkesbury River. An unforgettable two-and-a-half hour Indigenous Cultural Experience will see a local Aboriginal guide take you and your partner on a journey that identifies local bush tucker, medicinal plants, middens and rock carvings that are accompanied by stories, songs and descriptions of local Koori Art.
If adventure is more your thing, then you'll love getting the blood pumping with a bit of action on the water, with everything from paddle-boarding and kayaking to mud-crabbing and fishing on offer. Embark on an afternoon Champagne and Oyster cruise to really spark some romance, or dine over candlelight on sumptuous local cuisine.
ACCOMODATION
If you're looking for a luxury wilderness escape to rekindle the romance, then you can't go past the stunning Marramarra Lodge, an adults-only retreat that is surrounded by gorgeous bushland and the sparkling waters of the Hawkesbury River. Marramarra's main lodge has a rich history stretching all the way back to the 1920s, and is regarded for its exclusive location, elegant dining, surrounded by breathtaking nature and with a strong early history – it's an intoxicating combination for a sensory escape. Set on more than 8-hectares of Hawkesbury River frontage, Marramarra Lodge is only accessible by boat, seaplane or helicopter, making it the perfect spot for a romantic getaway!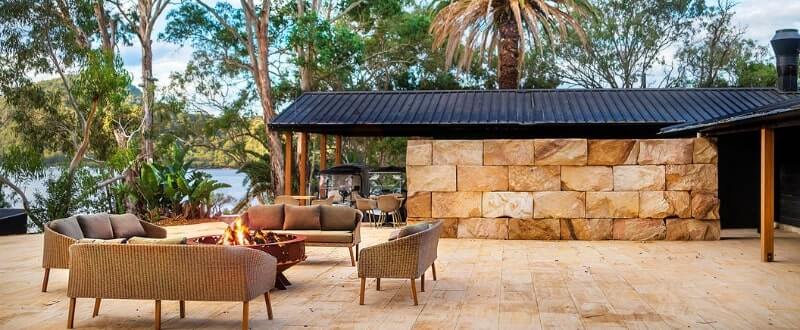 2. THE BLUE MOUNTAINS
Dubbed the "City within a World Heritage National Park", the Blue Mountains region offers an enormously diverse number of activities and accommodation locations which are perfect for a getaway with that special someone. Just an hour-and-a-half west of Sydney, it's the perfect place to go whether you want to impress or reconnect.
ACTIVITIES
From exploring some of the regions' natural wonders such as the iconic Three Sisters or the spectacular Jenolan Caves to apple-picking and sampling locally produced cider in Bilpin, there are more activities on offer in the Blue Mountains than you could possibly partake in with a single visit.
There are over 140km of bushwalking or hiking tracks in the Blue Mountains, so finding the perfect walk for you and your partner is easy, whether you're climbing down to a valley floor to experience glow-worm caves or climbing up to rugged escarpments to experience breathtaking views and sparkling waterfalls.
Culturally, wandering through the streets of some of the Blue Mountain's quaint towns is a charming experience that will see you encountering friendly locals, cosy cafes and stunning street art.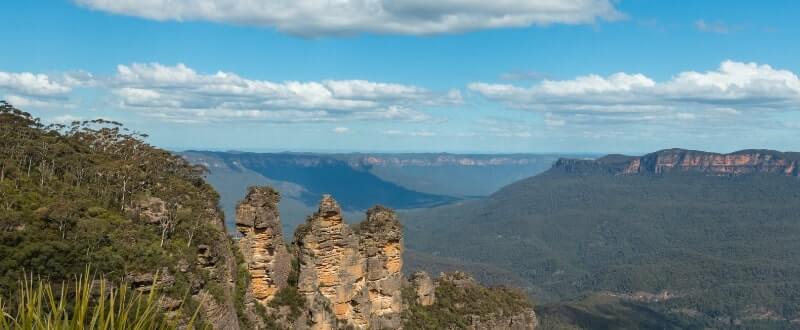 3. THE HUNTER VALLEY
The premier wine region of NSW is also one of the most romantic places you can visit. From all-day wine tours including visits to cheese makers and chocolatiers, to hot air balloon rides it is a special place that combines rural charm with modern luxury.
ACTIVITIES
Come for the wine, stay for everything else! There's much more to the Hunter Valley than just wine (although you won't want to miss out on that!) Explore the region's arts and cultures from visiting any number of galleries or the country town charm of Kurri Kurri, also known as the town of murals. Pamper yourself with a massage or a visit to a wellness spa or explore the cultural heritage of the reason. If you're looking for an unforgettable culinary experience with your special someone, the Hunter Valley has you covered. From extravagant high teas, cosy pub meals by an open fire or a fine dining degustation, the local produce and culinary quality of the Hunter will not leave you wanting.
     4. KANGAROO VALLEY
Located just a couple of hours from both Sydney and Canberra, Kangaroo Valley is a spectacular spot that many have dubbed "Australia's Most Beautiful Valley". With so much on offer, Kangaroo Valley has something to offer any couple looking to get away from it all and bask in one another's company.
ACTIVITIES
Hire a kayak and explore the sparkling Kangaroo River, take a bushwalk on any number of hiking tracks or sample the local produce at one of the many cellar doors, cafes or restaurants, or sample some of the finer delicacies such as local olives, cheese, fudge and ice cream.  Kangaroo Valley is also full of arts and culture. Take some time to visit the Pioneer Village Museum and explore the history of the valley or visit during the biannual "Artis in the Valley" festival or numerous music concerts and visual arts events that are held throughout the year.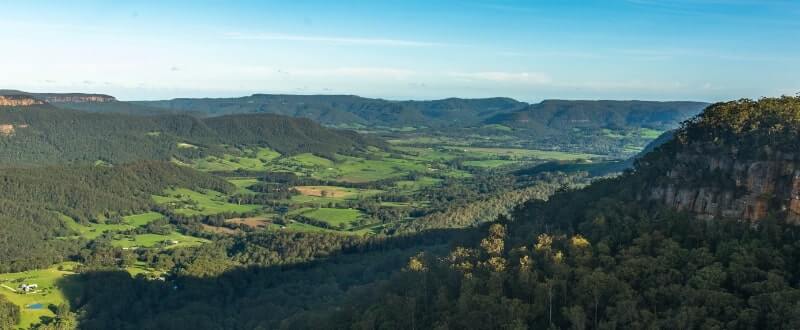 5. JERVIS BAY
Located on the NSW South Coast, Jervis Bay is a marine-life wonder park. By day, you'll explore nearby National Parks, go on a day cruise, snorkel with marine life or indulge in an assortment of water sports. By night, you'll want to explore the locally-sourced cuisine, or just bask in the privacy of your own waterfront accommodation!
ACTIVITIES
Jervis Bay is the closest thing you'll find to a natural marine theme park! Famous for its snow-white sand beaches, and world-class snorkelling and diving, there is a whole underwater world just begging to be explored. Swim with dolphins, or just soak up the beach lifestyle and relax! Spot migrating whales from the top of the Cape St. George Lighthouse or hire a kayak and soak up the sun while floating through sapphire blue waters. Visit the local produce markets or explore the culture of the region at the local art galleries and museum.